WELCOME TO SNEADS
Nestled in the Florida Panhandle and located on the southeast shore of Lake Seminole, Sneads has the perfect small-town charm. It may be small in size (approximately 4 ½ square miles), but Sneads has a great deal to offer. The locals have long understood and appreciated this rural area of rich outdoor recreation. Uniquely situated on the southern shore of Lake Seminole and near the Apalachicola River. Sneads offers unparalleled outdoor activities such as freshwater fishing boating and hunting. Known mostly as an agrarian region, many farms and ponds dot the landscape among vast forest of tall pines and oaks. As the Easterly most town in Jackson County, Sneads' population 1900 finds itself neighbors to Grand Ridge to the west and Chattahoochee (Gadsden County) to the east just across the Apalachicola River. We are located 20 miles east of Marianna, 40 miles west of Tallahassee and about 70 miles north of Panama City. You can learn more about our town on this site or on our Facebook: Town of Sneads-City Hall. Enjoy your visit to our website.
COMMUNITY INFORMATION
SPRING AMNESTY:
Starting next Month, SNEADS City Limit Residents ONLY.
April 5th -April 8th (Wed-Sat). Get started this weekend and take the time to get your items cleaned up and ready for next months Amnesty Days. Sneads Residents take advantage of this FREE service the town is offering by getting rid of the old junk you don't need anymore! More information is printed on the back of your utility bill. Share this with your neighbors and lets all help one another.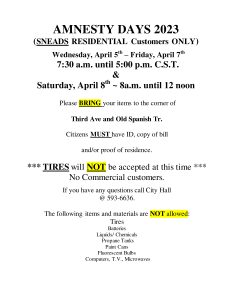 MISS GRAND RIDGE & MISS SNEADS PAGEANT: The  2023 Miss Grand Ridge and Miss Sneads Pageant will be held on Saturday, April 8th at 4pm at the Sneads High School. Divisions Tiny Miss thru Miss will compete for the titles. There will be a informational party on Sunday, February 26th from 1-3pm at the Grand Ridge Rec Center. Anyone wishing to compete in the pageant should fill out and return the entry form below.